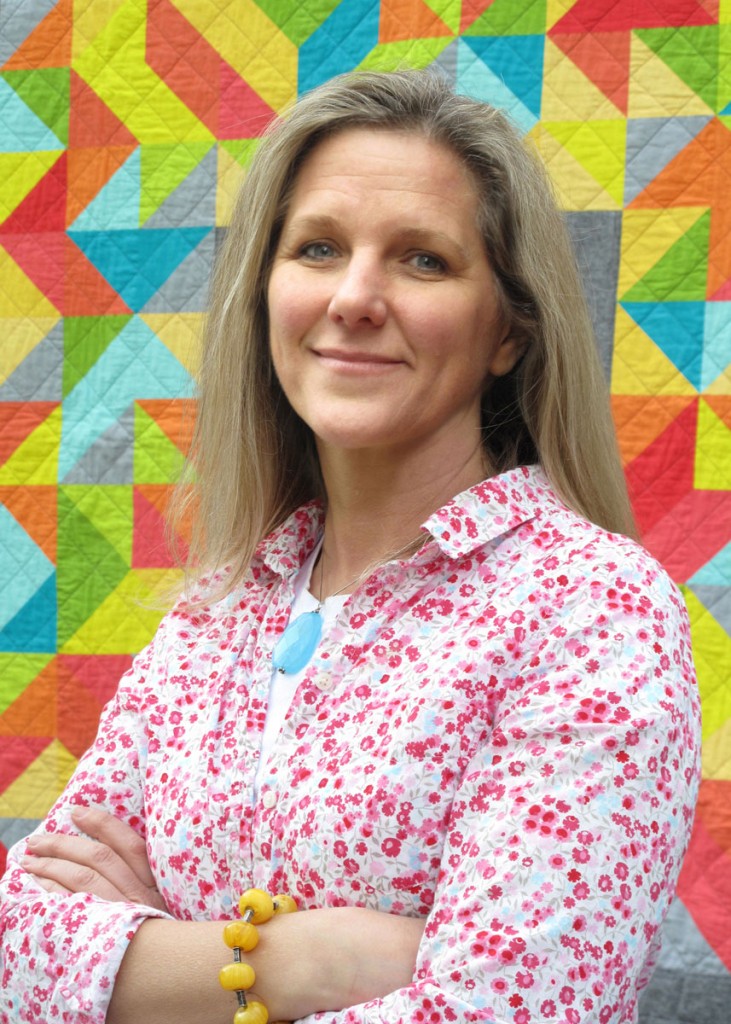 Berene, from Happy Sew Lucky was the first person I had approached about my stash drawing project. It was very trusting of her to let me walk away with a pile of her fabric as we had just met. I met Berene when she came to give a talk to our guild. Shortly after that we were in an inter-guild pot holder swap where I made her pot holders (and a mug sleeve). Actually, we ended up in a couple of swaps after that too. I feel pretty tickled to have swapped with her so many times because Berene is uber talented. Sadly, she has recently moved away from Vancouver to Toronto and is in the midst of settling into her new life. I didn't see her everyday but I feel sad knowing she isn't on the North Shore anymore. Luckily she's is a huge Instagram user and I do get to visit with her there. When she gets a chance I'll post her answers to my five interview questions. Until then how about I tell you a little about each drawing.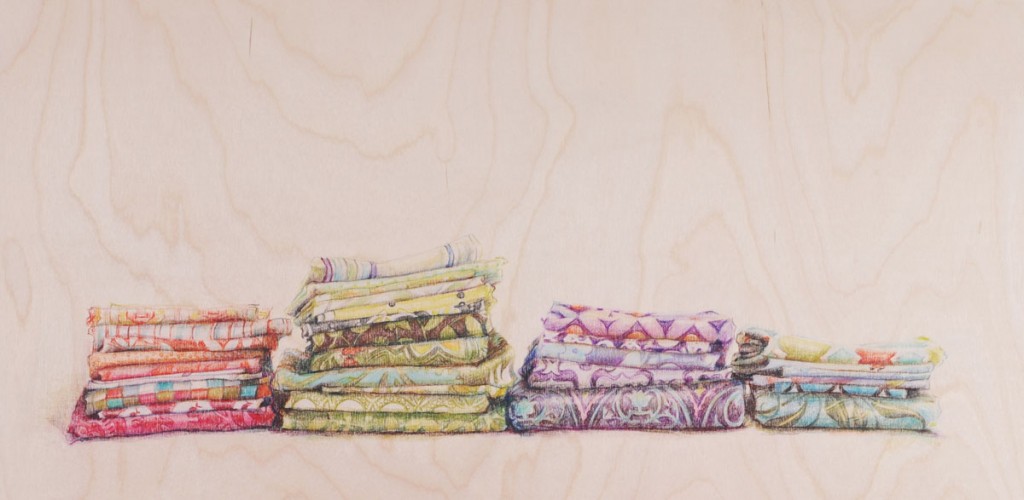 Drawn March 2012
12″ high, 24″ wide -1″ deep
Berene's fabric stash was in her office. As we entered she made me promise to put blinders on and not to look at her mess. Mess? What Mess? Her office radiated with creativity, as it should!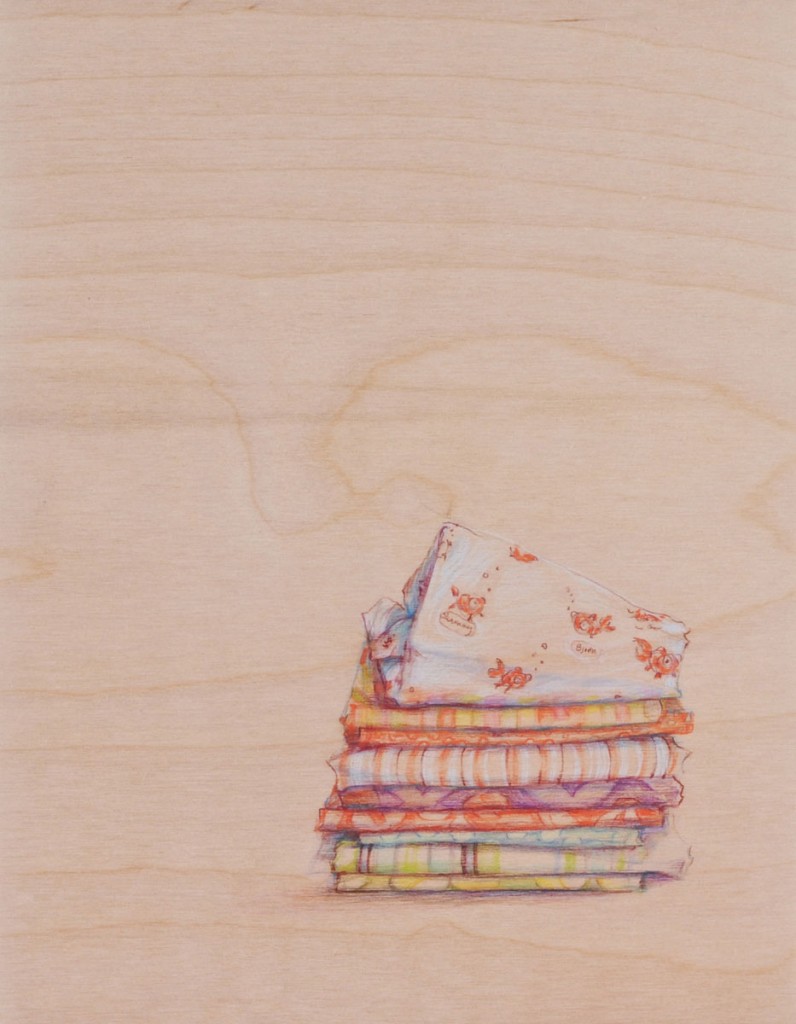 Drawn March 2012
14″ high, 11″ wide -1″ deep
In getting to know Berene I discovered that she collects goldlfish. Not real goldfish but plastic toy ones. Her collection was quite impressive. Whenever I see one it reminds me of her office, stacked with books and bits of inspiration everywhere… and her impressive fabric stash!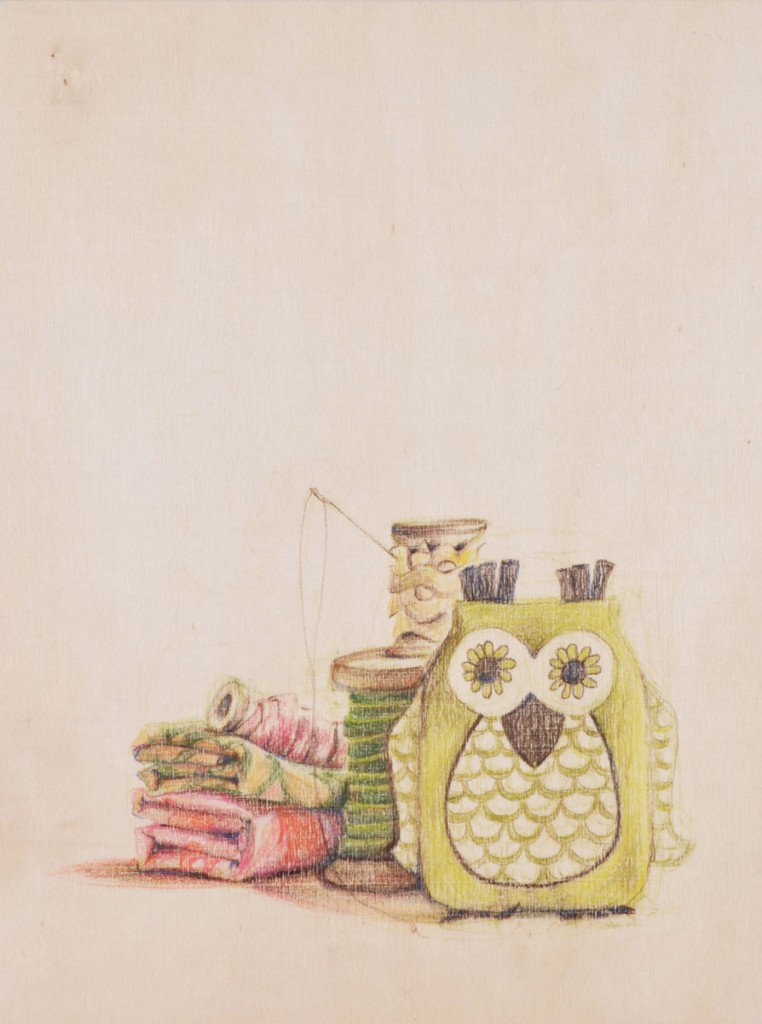 Drawn March 2012
14″ high, 11″ wide -1″ deep
While Berene let me dig away at her stash for fabric to draw, I found some owl patterns for a needle book stuffed in the middle of a stack.
"Hey'what's this?" I asked.
"Oh, it's just a pattern I whipped up that I did a while ago. I haven't posted about it yet. I guess I should do that. You can have one!" She replied.
"Um… Okay, sure Thanks!" (meanwhile I was doing a happy dance inside!)
Promptly, I went home sewed it up and featured it in this drawing!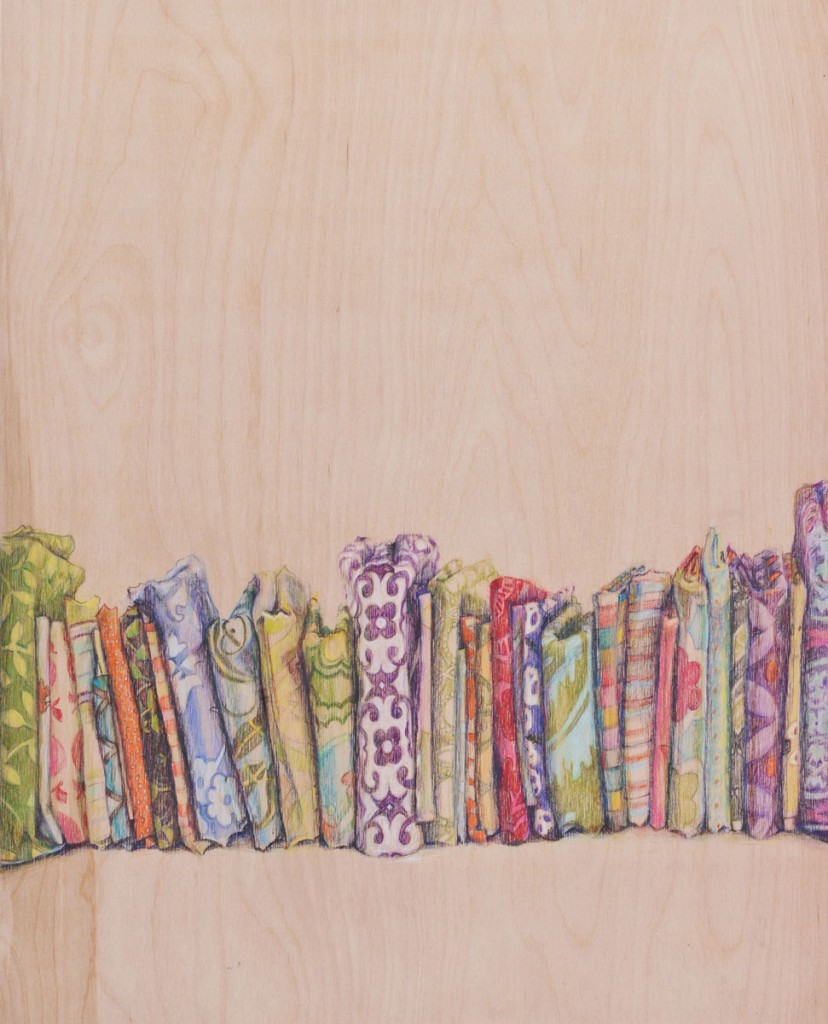 Drawn March 2012
20″ high, 16″ wide -1″ deep
I not only fell in love with Berene's fabric stash but I also fell in love with the cabinet that she held her stash in. It almost reached the ceiling and was chock full of fabric from the very top to the very bottom! I wonder what her stash will look like in her new place? I'm sure it will be stunning!
Drawing photo credit goes to the fabulous Raeanne Schachter