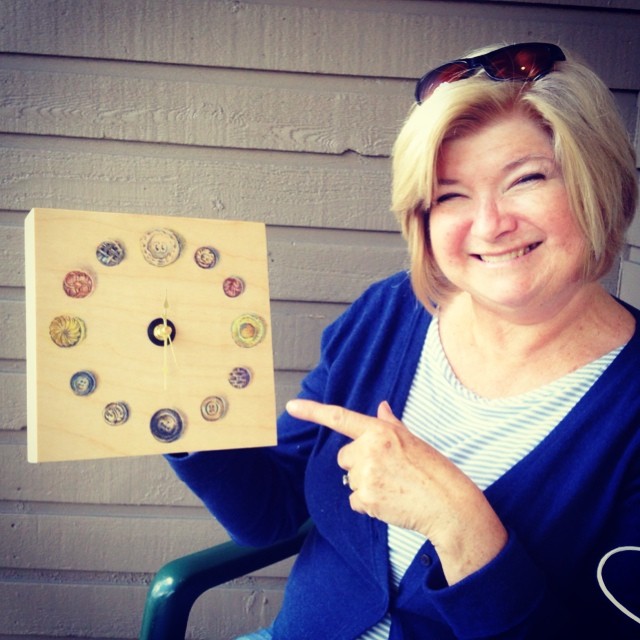 Cathy sells trims and buttons! Vintage, pretty, yummy trims and buttons! Needless to say, I indulged myself the first year I saw Cathy's Steam Trunk Craft Works booth at the Creative Stitches show (2012). When I got home from that show, I took a picture of my treasures and promptly… didn't post them.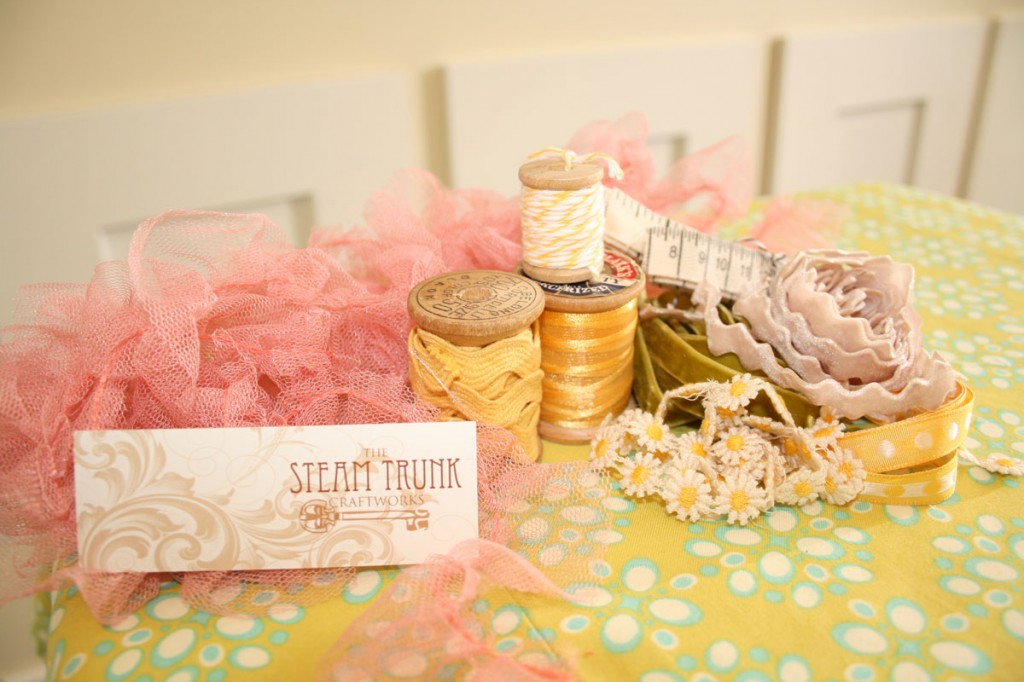 Cathy started attending our Fraser Valley Modern Quilt Guild monthly meetings shortly after that. Through a guild challenge using Cathy's Sari silk from her shop, I made a pillow. When I posted about it on my blog, I also included this picture of the goodies I had bought the following year. Before I knew it Cathy had commissioned me to draw that photo (we added some spools to the back).
From that point on, plus a few visits and coffees later, we were thick as thieves. I've said this before but I really appreciate Cathy, she's always very straight forward and forward thinking. She's one smart cookie! Plus, she has the best sun shiny smile and giggle!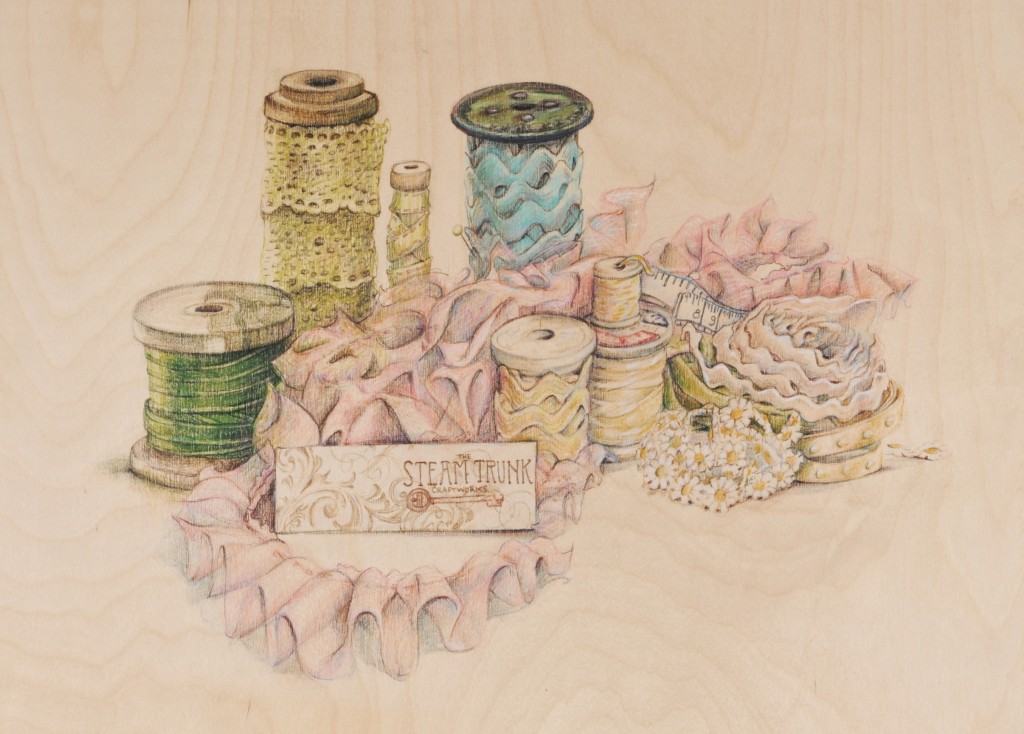 Drawn April 2013
20″ high by 24″wide – 2″ deep
1. Trims, notions, pom-poms, buttons; you have all these wonderful items in your online store and in your booths. I look forward to seeing your booth every year at the Creative Stitches Show in Abbotsford so I can touch it all! I'm always fascinated by how store owners go about deciding what they think their customers will love. How do you decide? Do you just pick out what you like? I only buy what I love – it makes it easy for me to get excited about it and if no one else likes it I get to keep it all!
2. We've chatted about your fabric stash and you've expressed a need in growing it. How's that been going? I have started collecting fat 1/4's – they are the perfect size and I always purchase a few from the same collection in my favourite colours.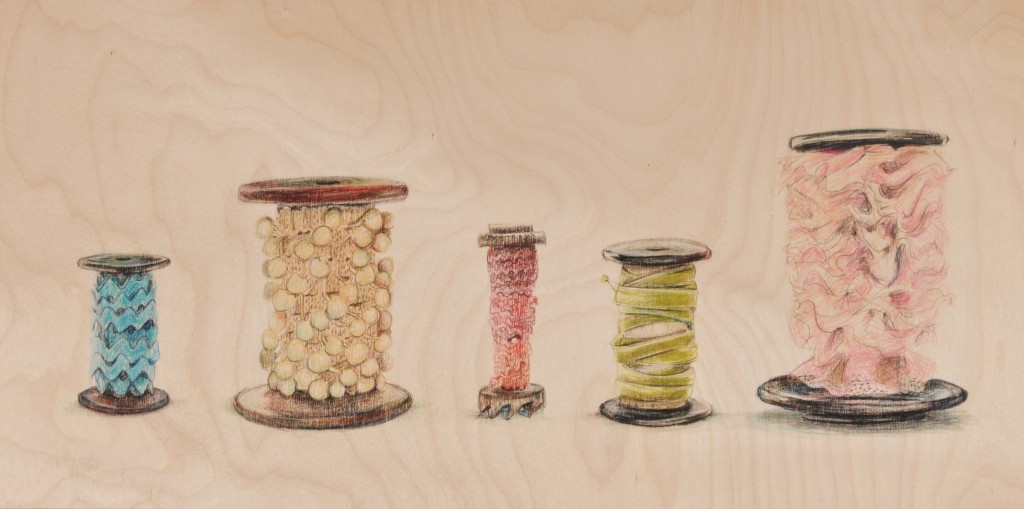 Some Rick Rack, Some Pompoms and Some Lace Walk into a Bar
Drawn April 2013
12″ high by 24″wide – 2″ deep
3. I have 2 stashes, a fabric stash and a trim stash…hmm, now that I think about it I have 3, I have a buttons stash too. Do you also have a stash of each? Of course! – I have shelves filled with jars of buttons, baskets of trims and a tall bookcase of fabrics in my craft room, but I also have an entire garage filled with products to pick from!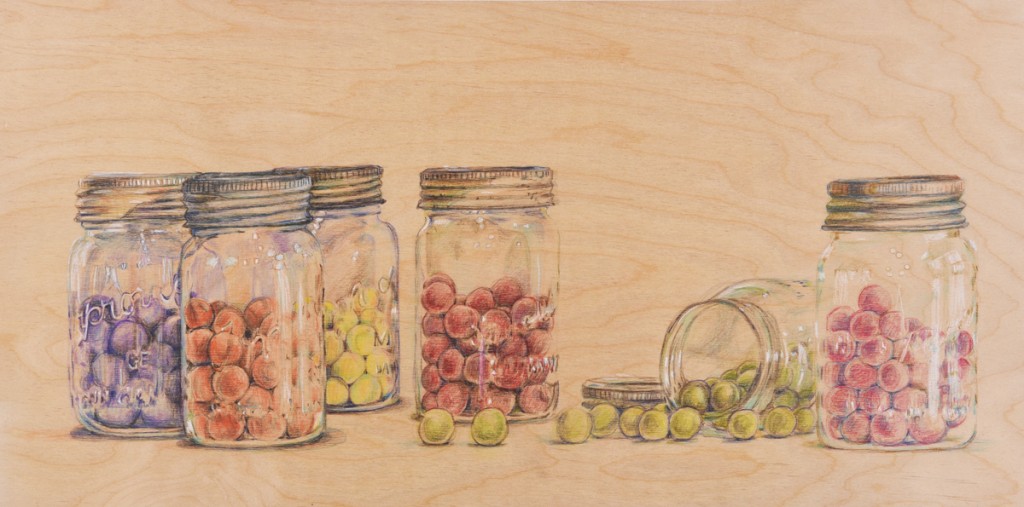 Jars of Pompoms
Drawn June 2013
12″ high by 24″wide – 2″ deep
4. I've seen the Tim Holtz fabric you've been carrying and last year you had some lovely linen. Will Steam Trunk Craft Works be expanding into fabric any time soon? Please say yes! Please say yes! Yes, yes and yes – I am already drooling over some new lines.
5. You do events all over Canada. Let's say you have to ship your entire fabric stash out on a skid. There are 3 pieces you just can't bare to let go of in case something were to happen to the skid. Instead you decide to keep them close to you so they won't get lost. What 3 pieces of fabric would they be?  Tim Holtz Butterflies and Symphony. Plus my hand dyes velvets.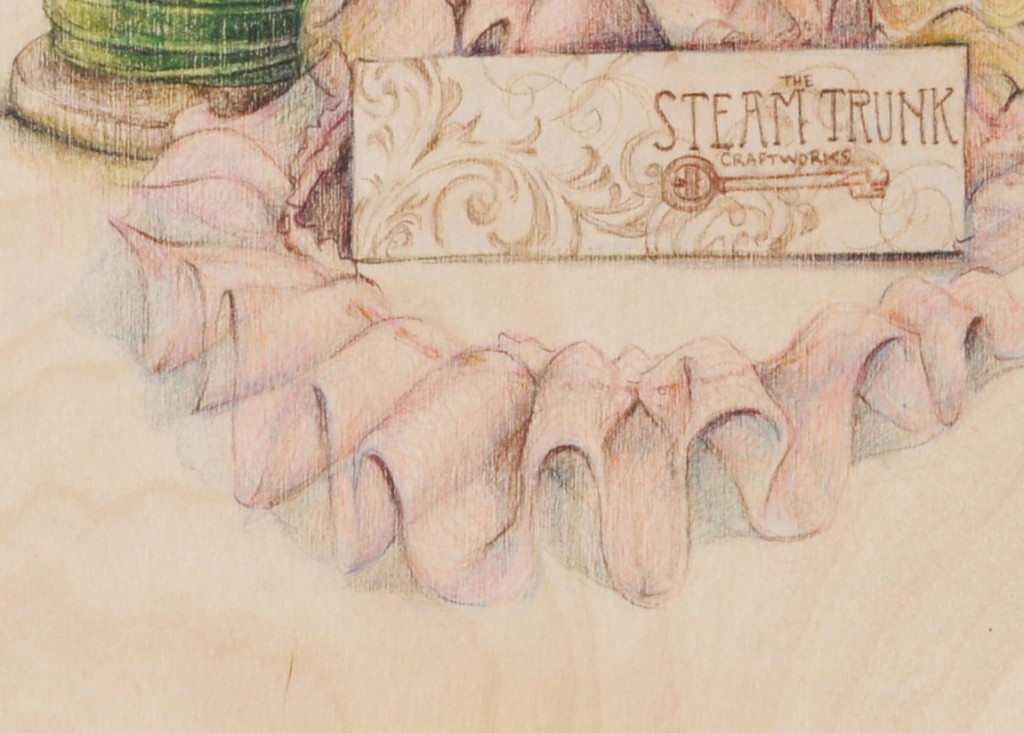 …Meanwhile, I'm working on Cathy's daughter, Laura's wedding dress!
Update… DONE!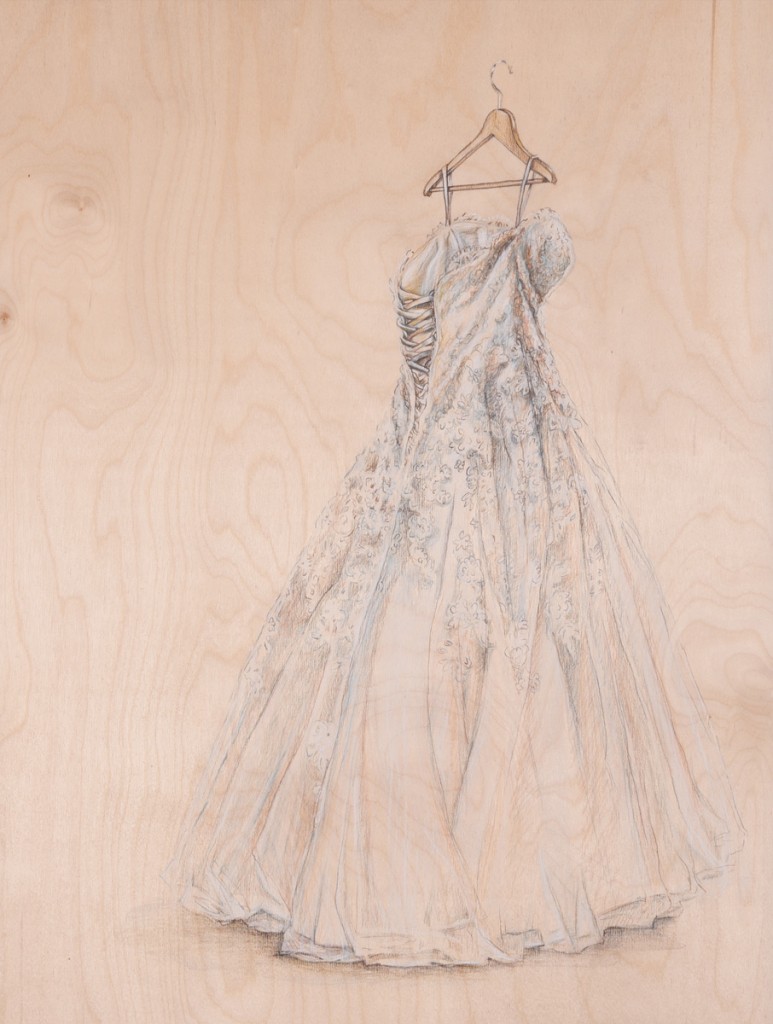 Drawing photo credit goes to the fabulous Raeanne Schachter