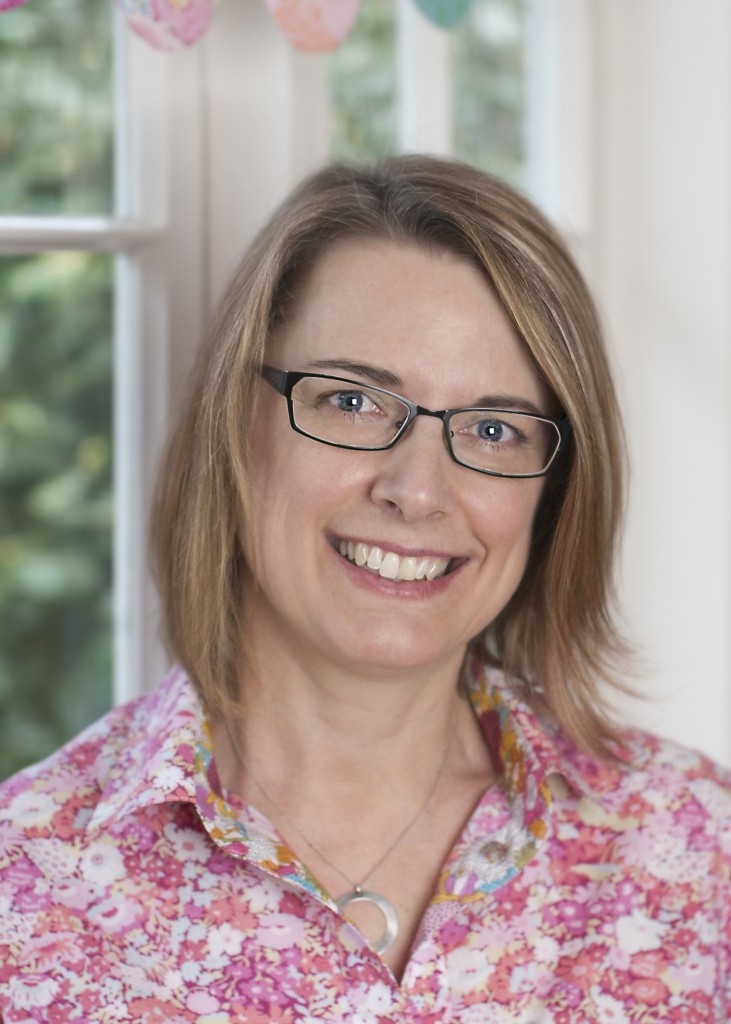 I first heard Krista talk at a Vancouver Modern Quilt Guild meeting in 2011. She gave an impromptu chat about do's and don'ts in swaps. It was pretty pertinent information at the time, since I had just signed up for my first online quilting bee. I quickly realized Krista really knew her stuff and that she's one smart cookie! It doesn't take long to figure that out from reading her blog "PoppyPrint" As it happens at that same meeting I had shown a drawing of my own stash at show and tell. Krista was very keen about the drawing. In the spring of 2012 I started my Drawing project with Berene Campbell's stash, who happens to be one of Krista's BFF's. After I finished Berene's drawings I remembered Krista's enthusiasm and asked her next. After seeing Krista skip wildly to the front to collect her door prize I figured she'd probably say yes to my adventurous invite. Which she did!
Krista has just released a new book called "Make It, Take It: 10 Cute and Clever Projects to Sew with Friends" (due out February of 2015). We're all just thrilled for Krista and can't wait to get our hands on it! However, luckily for me Krista took time out of her busy schedule to answer these questions while she was in the midst of editing her book this past summer. She's pretty awesome that way. 
1. You moved your stash since I last drew it. Where is it now? Did you do anything different when you set it up this last time? My daughter and I switched rooms, so now she sleeps with the spiders in the basement and I get a lovely view of Vancouver to Metrotown while I sew. I completely culled all of my out-of-date, out-of-my-style fabric and chopped it up into 2 1/2″ squares with an Accuquilt Go cutter over the Christmas holidays last year. I've already made 2 "scrap vomit" quilts out of the squares and I think I could make 3 more! I rolled all my yardage onto acid-free boards and arranged my stash in colour order on shelves. Everything is so much easier to see, find and use now.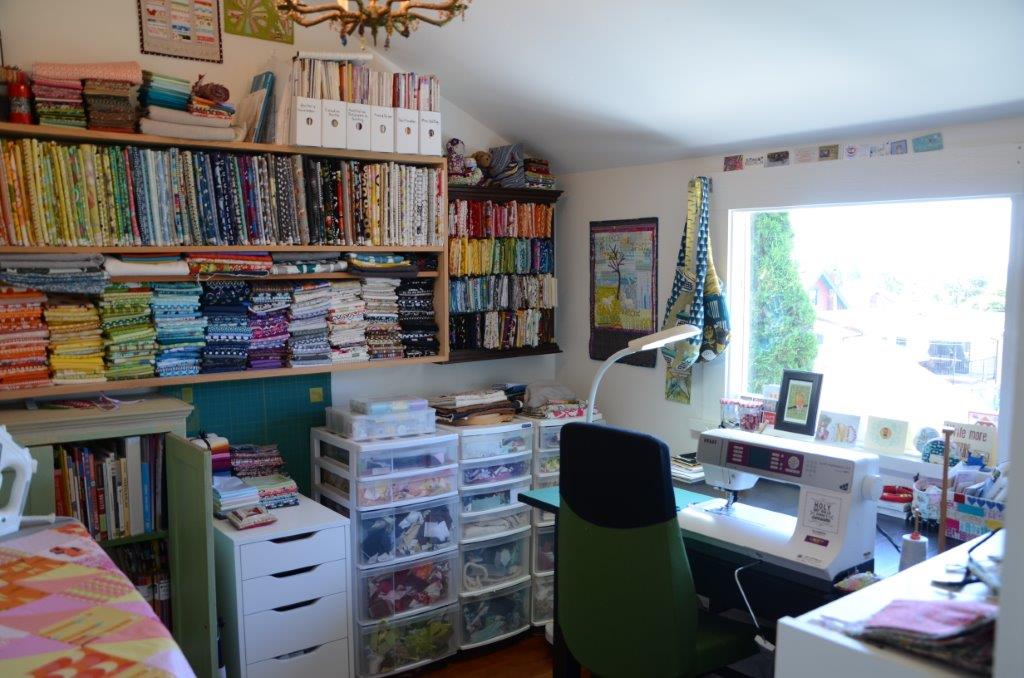 2. I noticed you're a big fan of wrapping your stash around comic book boards. How and when did that come about? See above! I noticed several bloggers I read were doing this and having worked at an LQS, I already had an affinity for vertically-displayed fabric. Now, instead of looking at a disaster of crooked piles, I have a pretty display. My non-quilting friends routinely react in shock at the sheer magnitude of my stash. Result!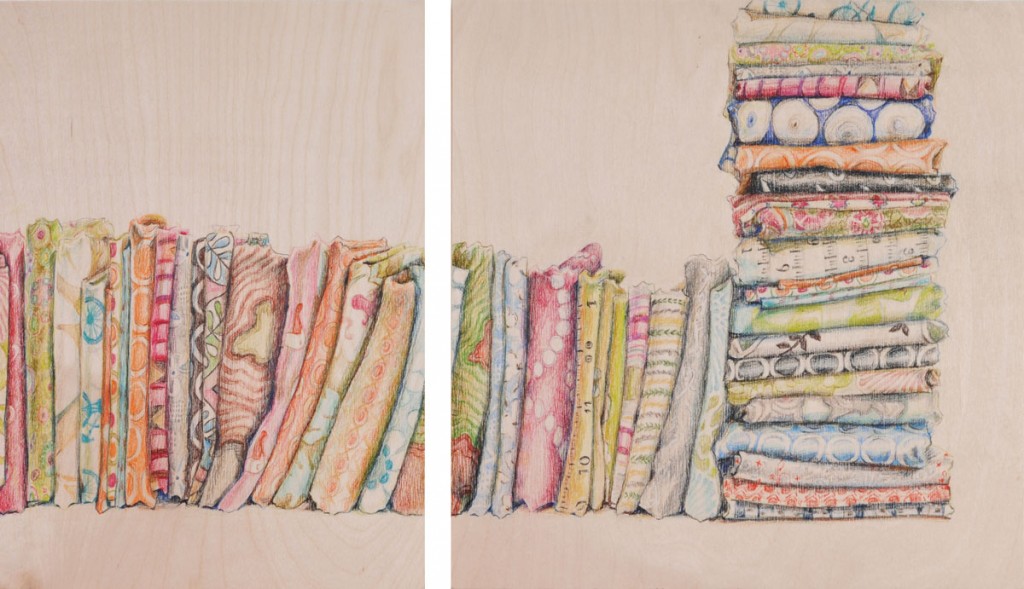 Drawn July 2012
9″ high by 12″ wide – 2″ deep     12″ high by 12″wide – 2″ deep
3.What are your top three go to online or brick and mortar stores to buy fabric from? Do you have a preference to online or in person shopping? And is there a reason behind your choice, for example I enjoy buying online but I still love and prefer to feel the fabric before I buy it. I freely admit to buying most of my yardage from U.S. online shops as the selection is always much better than what is available locally (plus, I am fairly in tune with upcoming lines and they are typically available sooner in the U.S.). I started doing this when our dollar was at par, however now that it has dropped again, my buying is much more selective and I'm trying to use what I've got first. I shop at Sew-Sisters, Mad About Patchwork (both Canadian Stores), Marmalade Fabric and Fabric.com. Locally, I look to Spool of Thread for modern prints and Kona solids.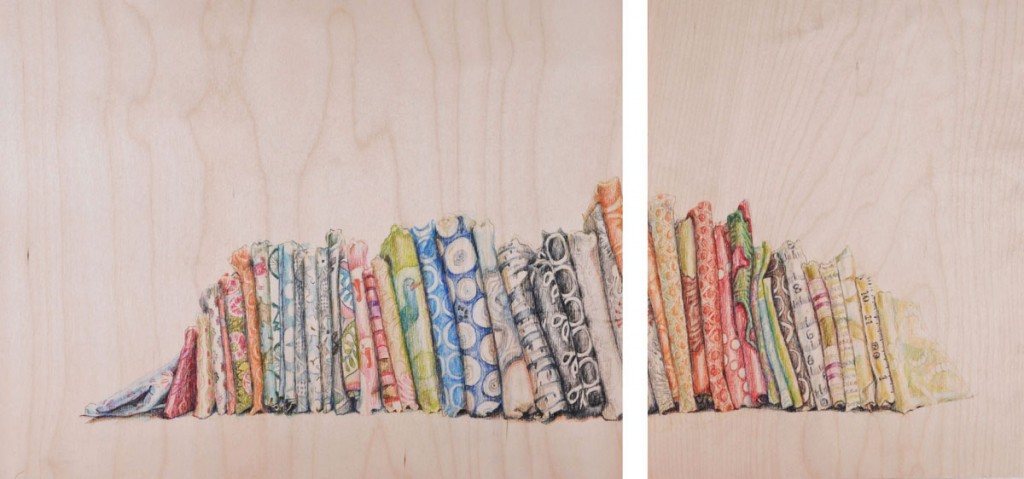 Drawn July 2012
14″ high by 18″ wide – 2″ deep     14″ high by 11″wide – 2″ deep
4. Do you have a method to your madness, do you buy per project, when you find a good price or just when you see something you like? Price has a lot to do with it – I'm definitely a sale shopper. I am trying to avoid hype-buying (hello, Cotton & Steel?) because when I look at my stash I do see quite a bit of 'trendy' fabric that remains untouched. I have a large enough stash now that I don't need to buy to fulfill most of the projects I have in mind.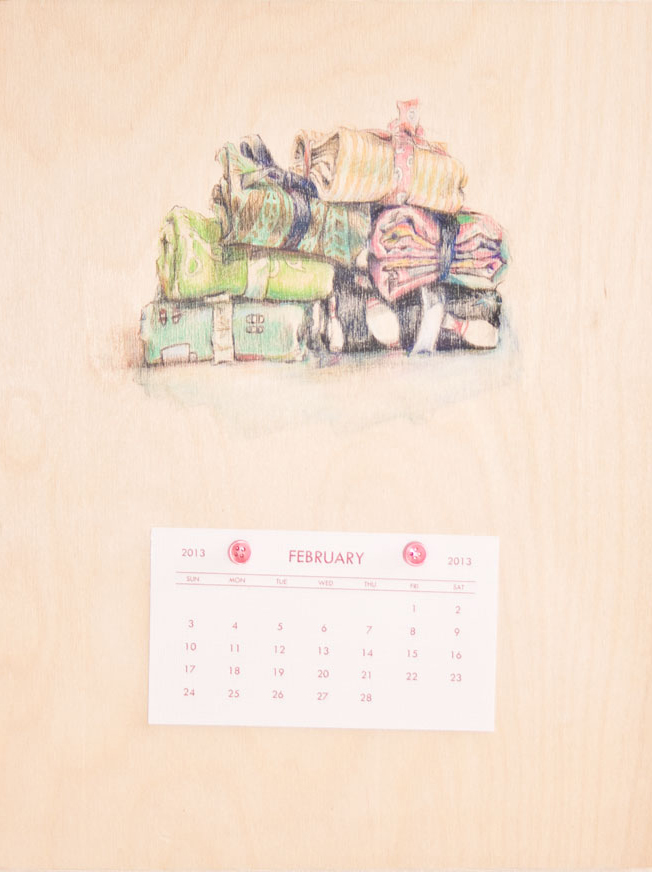 Drawn February 2013
14″ high by 11″ wide – 2″ deep
5. If you were on a deserted Island and all your fabric was floating off into the water, what three pieces couldn't you live without? Keeping in mind, these are shark infested waters and some of those pieces may have floated off into the distance. Is there a story to these three pieces or are they simply your favourites? I love my Liberty tana lawns and Echino linen blends the most. I'd fend off sharks for them, I swear.