I had this thought a few weeks back… "I think I'd like to get back into teaching again."
Then funnily enough the chance fell right into my lap at Mini Maker Faire! Amy, the Vancouver Modern Quilt Guild's Workshop Coordinator, popped by our booth and told me she had an idea. We chatted for a while and, by the time she left, I was scheduled to teach a Block Printing Workshop for them in October! The focus of the workshop is creating repeats and printing on fabric. I couldn't be more tickled! Wait, that's not true, I can! The workshop is almost sold out already and they haven't even officially announced it on their website yet!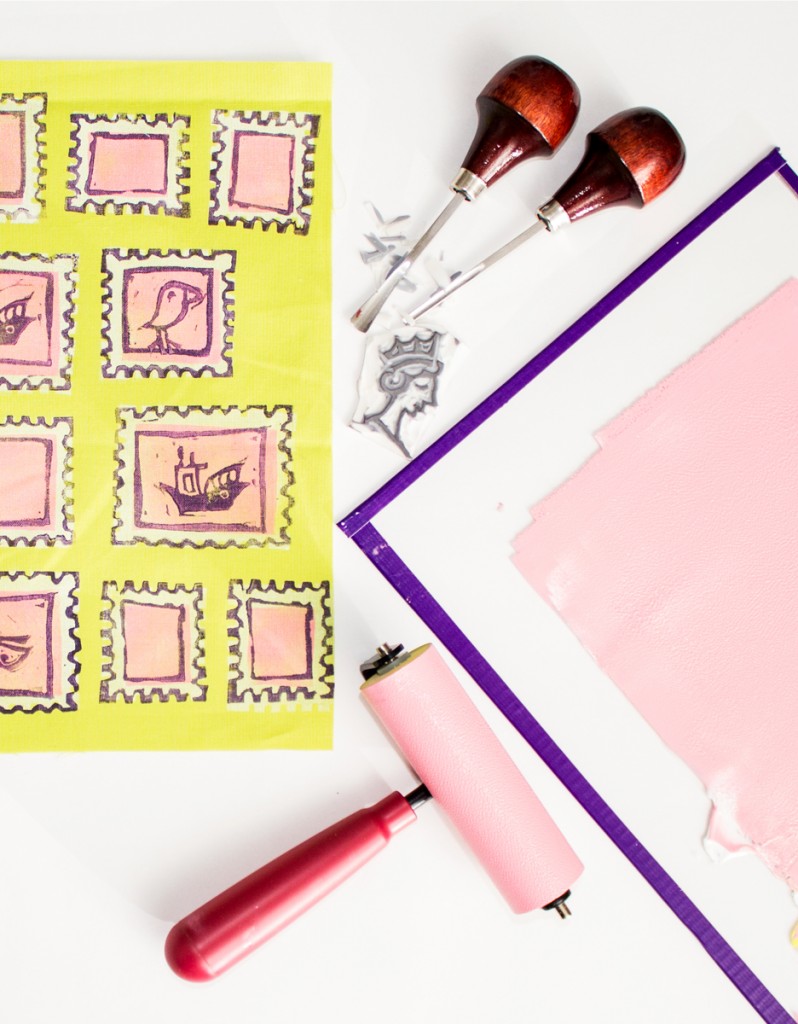 Here's the write up: Love fabric? Have you ever thought of designing and printing your own? It can be tricky knowing where to start. Join Lysa Flower and create your very own fabric with these three easy steps.
Step one: Create a design – Design a repeat block and various other repeat patterns.
Step two: Carve a block – Use the proper technique to carve a lino block with your repeat pattern.
Step three: Printing! – Ink your palette, roll, press and print. Your life will never be the same!
WHEN: Sunday, October 2nd, 2016
WHERE: Room C, Croatian Cultural Centre Vancouver (3250 Commercial Drive)
COST: $50 (VMQG members) $55 (non-members) , plus a supply fee payable to Lysa $20
TO REGISTER: email Amy at workshops@vancouvermodernquiltguild.ca
SUPPLY LIST: (what to bring):
Apron
Fabric (anything goes, any amount goes!)
Exact-o knife
Palette knife (if you have one, no biggie if you don't)
Paper and fabric scissors
Lino block cutters
Opus has Speedball starter kits with a cutter set (only three blades though) and a brayer for $29.90. (Kit also includes a lino block , water soluble black printing ink, a foam tray and an instruction booklet). To order online click HERE. Larger sets are also available.
Opus also has individual Speedball Lino cutter sets of 5 for $16.50. To order online click HERE
Michael's has a Speedball Speed Carve Kit. It only has a V and U shaped blades with a wood handle (all other Speedball carving handles I've seen have always been plastic). However this kit also comes with a 4″x 6″ block, tracing paper and an instruction booklet). Online, there was no price listed and I'm not confident each store carries them. Perhaps give them a call before going down.
Amazon has a Speedball Lino Carving sets for $8.10. To order online click HERE.
4″ soft rubber brayer BUT if you have a hard rubber brayer we won't turn you away. AND if you already have a smaller one, bring it too.
Opus has individual brayers ranging from 2″-6″ and range in price from $16.80-$22.80. To order online click HERE.
Michael's. I did see some online but again I'm not confident each store carries them. I suggest calling before going down.
Amazon has a variety of Brayers and prices. To check them out click HERE
PROVIDED SUPPLIES: Lino blocks (enough for three repeat patterns), a variety of coloured inks, palettes, sketch pencils, erasers, sketch paper, tracing paper, test paper and fabric. Plus a take home resource list of supplies, inspirational links and books.
The goal is to set you up so you can do this easily at home. WARNING: it's a teeny tiny bit addictive!