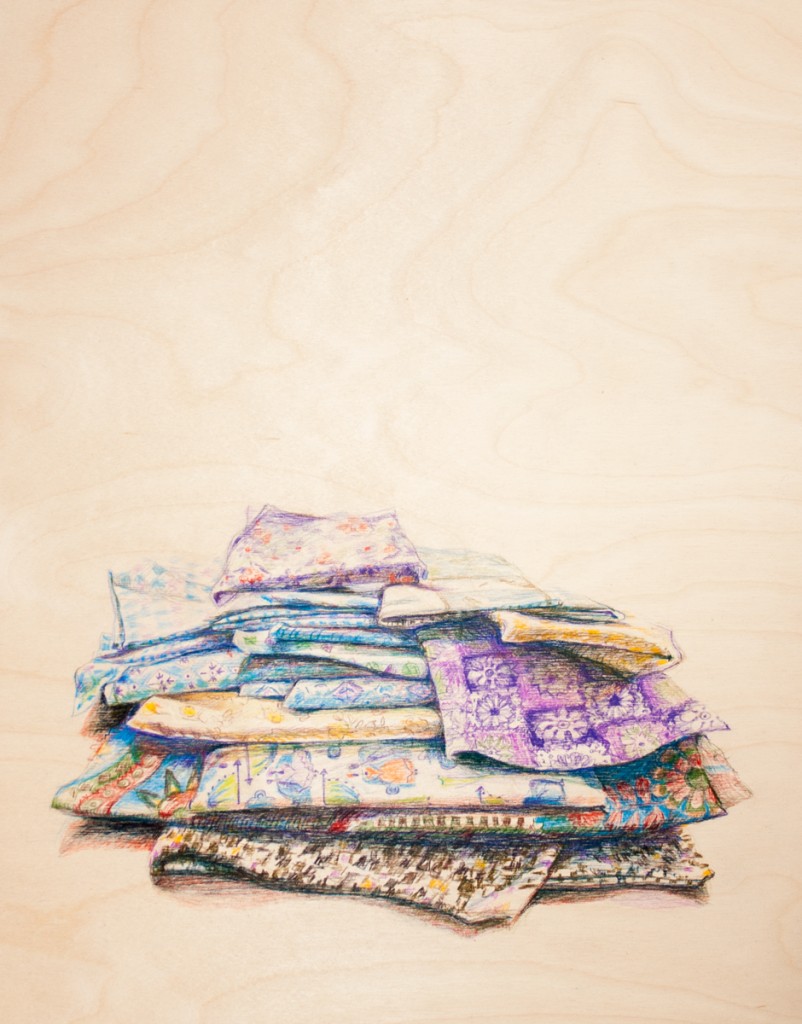 "Details"( Drawn March 2016 )  18″ high, 14″ wide-  2″ deep
I don't recall how I came to be on Abby Glassenberg's newsletter BUT am I ever glad I did! I'm always thinking about her posts long after I've read them. She's not afraid to go against the mainstream and say, hey, this is how I see it. I loved Abby's insightful post about being an online mom. She's challenged Alex Vernonelli's, from Aurifill, behavior (I think we all truly thank her for that). Not to mention, through an article she wrote for the Craft Industry Alliance, she spearheaded conversations that resulted in raises for Quilt Festival Teachers. Needless to say, I look forward to her newsletter popping in my inbox and reading her blog.  Oh and Abby also has podcasts, which I love to listen to while I work away in the studio. They are, of course, excellent!
Most recently, in October of 2015 Abby and Kristin Link from Sew Mama Sew co-founded the Craft Industry  Alliance. When I was at Quiltcon this past February the consensus was, if you're not signed up for it you should be! So I did.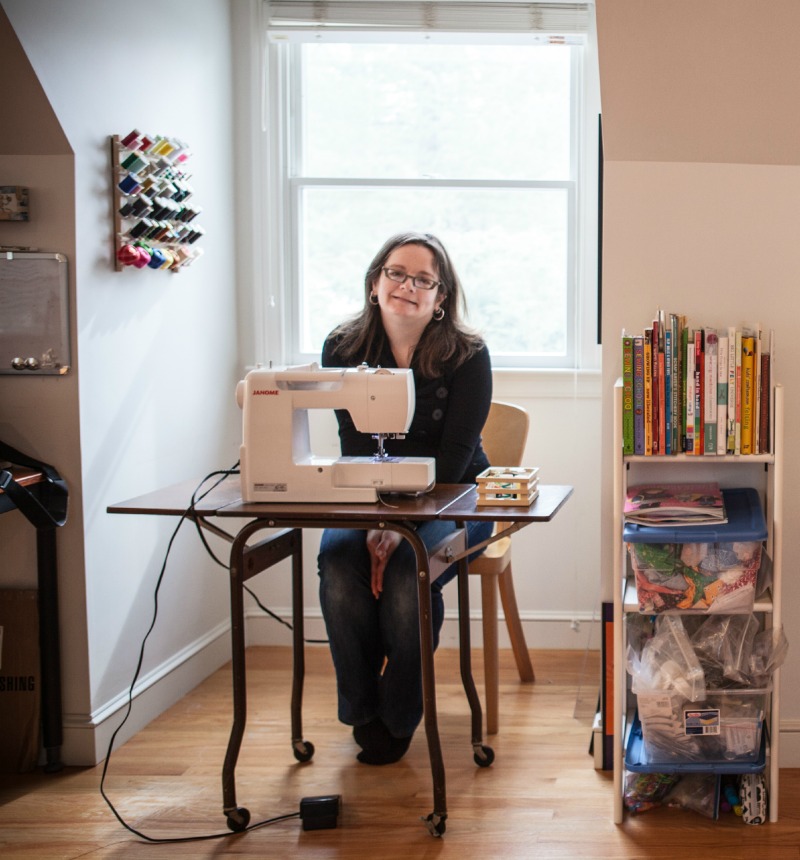 Um, so yeah, I think the secret's out. I'm a fan girl. darn it, I was hoping to keep that under wraps but I can't. I was so thrilled when Abby accepted my Stash Drawing Project invitation. I did the drawing in late December/early January. I knew Abby was moving into her new studio in February which you'll see is a gorgeous space (photo credit to Lisa Neighbors)! I contacted her again in March so we could include it with her stash drawing. I was all set to do this post. But one thing kept nagging me, I couldn't put my finger on it… Then I had an ah-HA moment. The drawing sucked. It fell flat,  the composition didn't work. I don't know why I didn't see it earlier. Maybe it was the rush of Christmas and the New Year? I have changed things up a bit. People in the past have sent me their fabric to draw from. However, I know that 's a pretty big ask. This was the first time working from a photograph. Could that have been it? But I've done plenty of drawings from photos before. In the end it didn't matter why. So I redrew it. And I'm SO glad I did!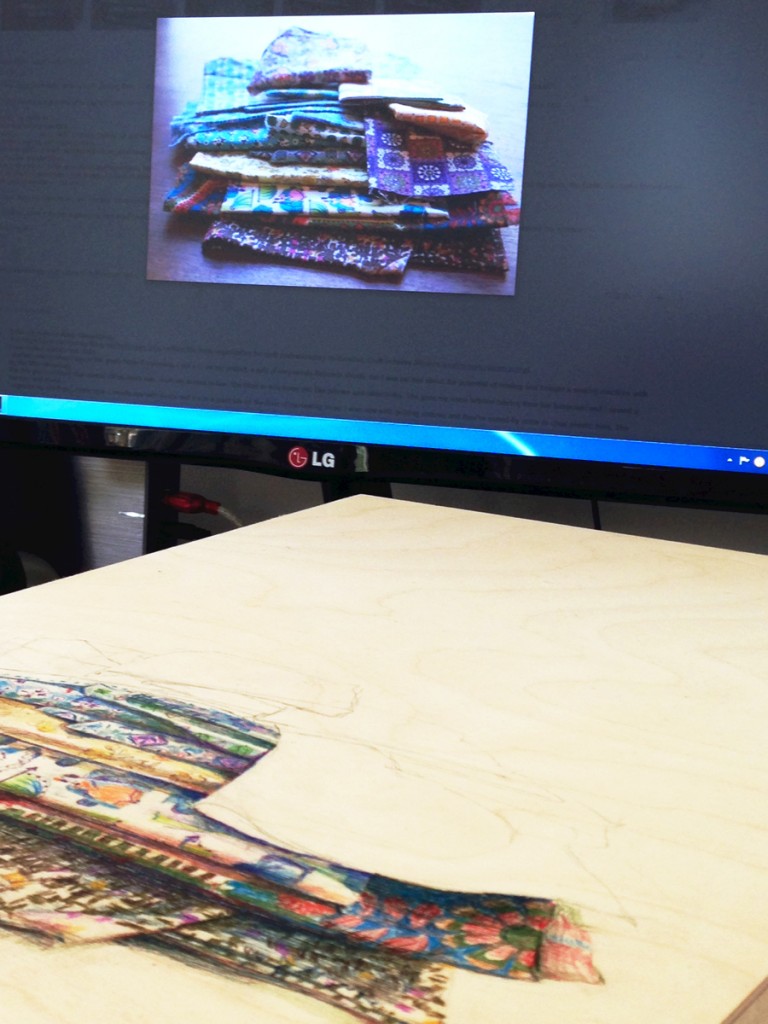 I adored her vintage cotton and feedback fabrics. It would have been so disappointing to have botched those. I did try to save the other drawing but yeah, it's fire wood now. What can I say, every once in a while it happens.
I've also changed the format from 5 questions to: finish this sentence. My goal for this Fabric Stash Drawing Project, is that it's for those who participate. Abby was the first one to give this a go and I LOVED her answers!
Without further ado:
Hello, my name is Abby Glassenberg.
You might know me from my blog, While She Naps or from the trade organization for craft professionals I co-founded, Craft Industry Alliance 
I sew stuffed animals and dolls.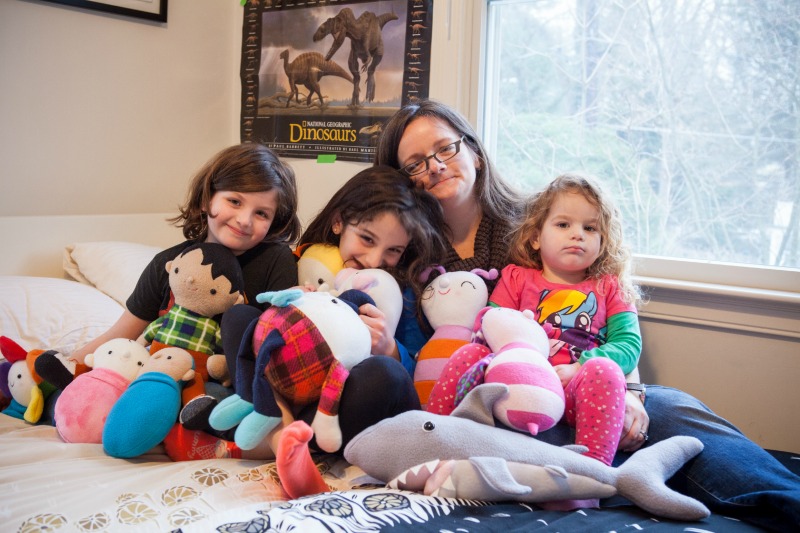 I started sewing when…I was in 8th grade Home Economics. I got a C- on my project, a pair of very wonky Bermuda shorts, but I was excited about the potential of sewing and bought a sewing machine with my Bat Mitzvah money.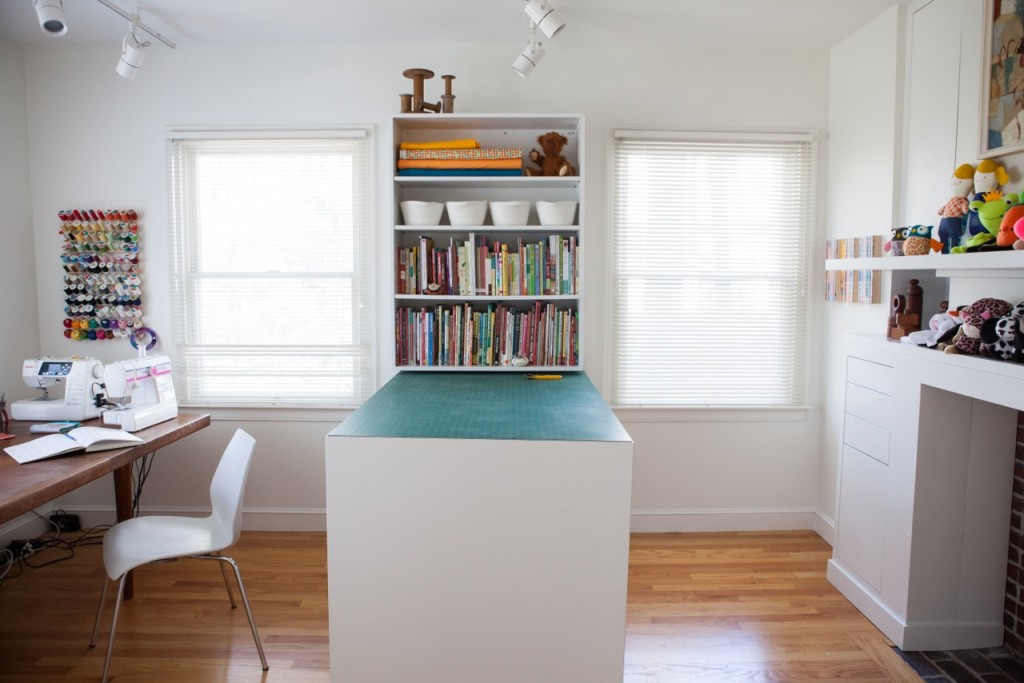 The first piece of fabric that stared off my stash was… fabric from my mother-in-law. She liked to sew home dec like pillows and table cloths. She gave me left over fabrics from her basement and I sewed a monster with them.

I organize my stash b
y…
 fabric type. I mostly sew with fleece and it's in a giant tub on the floor of my sewing room. I also sew with quilting cottons and they're sorted by color in clear plastic bins. The solids are in their own bin and I love looking at them because they're in rainbow order.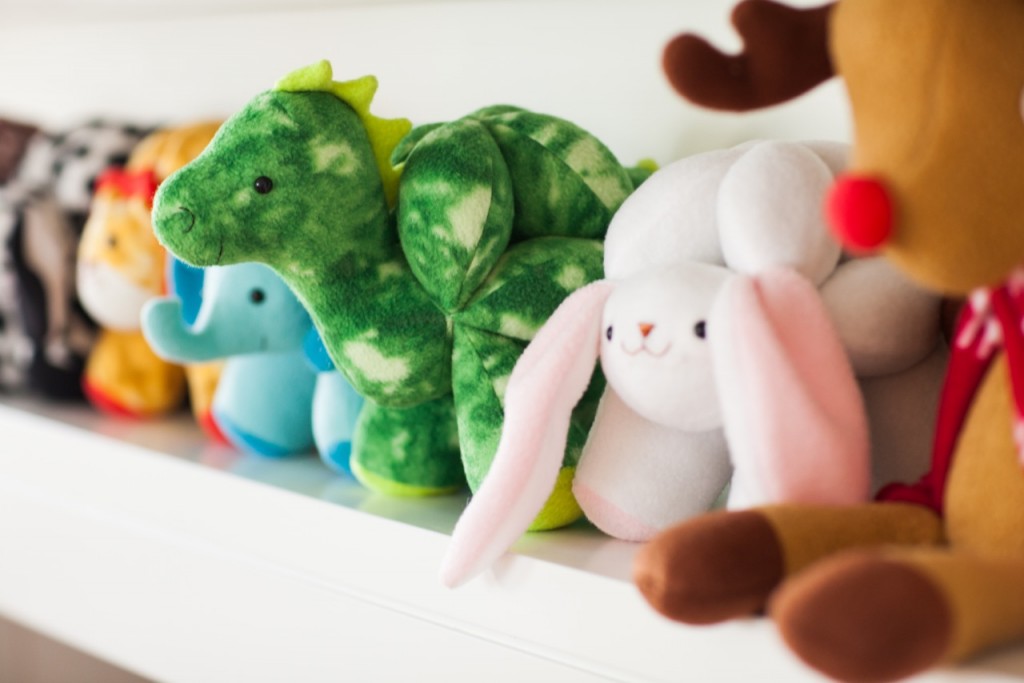 The best advice I could give about starting a fabric stash is… search flea markets and yard sales. Lots of people give away their fabric stashes and that's a great way to begin building without spending a lot of money. This way you can experiment without any real financial consequences. Later, once you hone in on what you really love to sew, sell the rest at your own yard sale.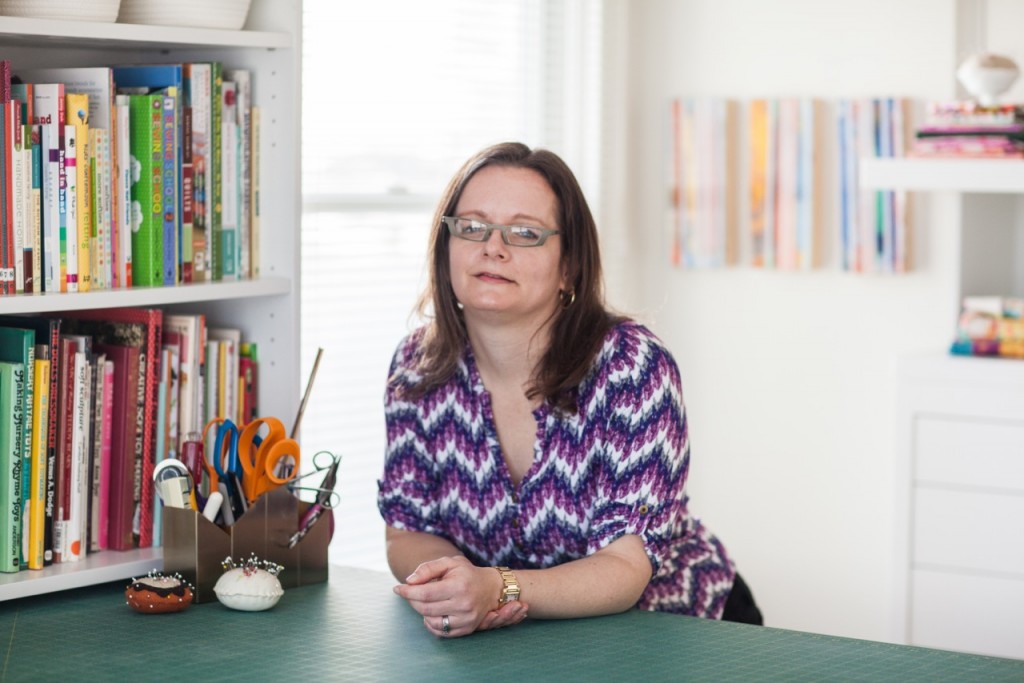 If I decided to move into a tiny house, I'd have to downsize my stash. When I moved into my tiny house, if there was a windstorm that (WHOOSH) blew all the fabric out of my arms, the fabric I'd chase for miles to get back would be… this tiny pile of beautiful vintage feedback fabrics. They were given to me by an old friend who found them at the dump near her house. I love them because they're prints that you don't see anywhere else. They're totally unique and the color combinations are so beautiful. I only have a small piece of each, but they're perfect for special details like a teddy bear's ear lining.